Burris Thermal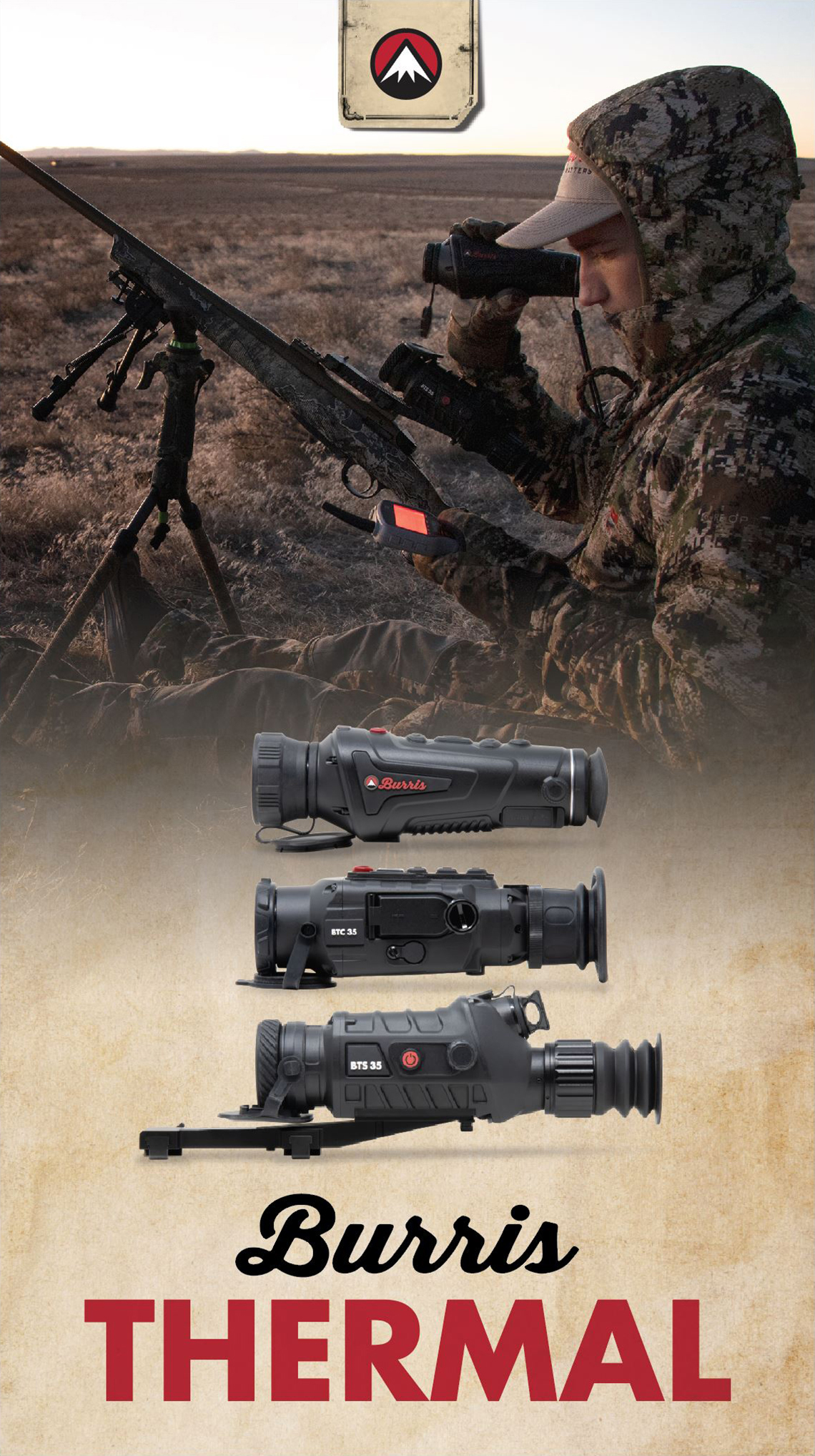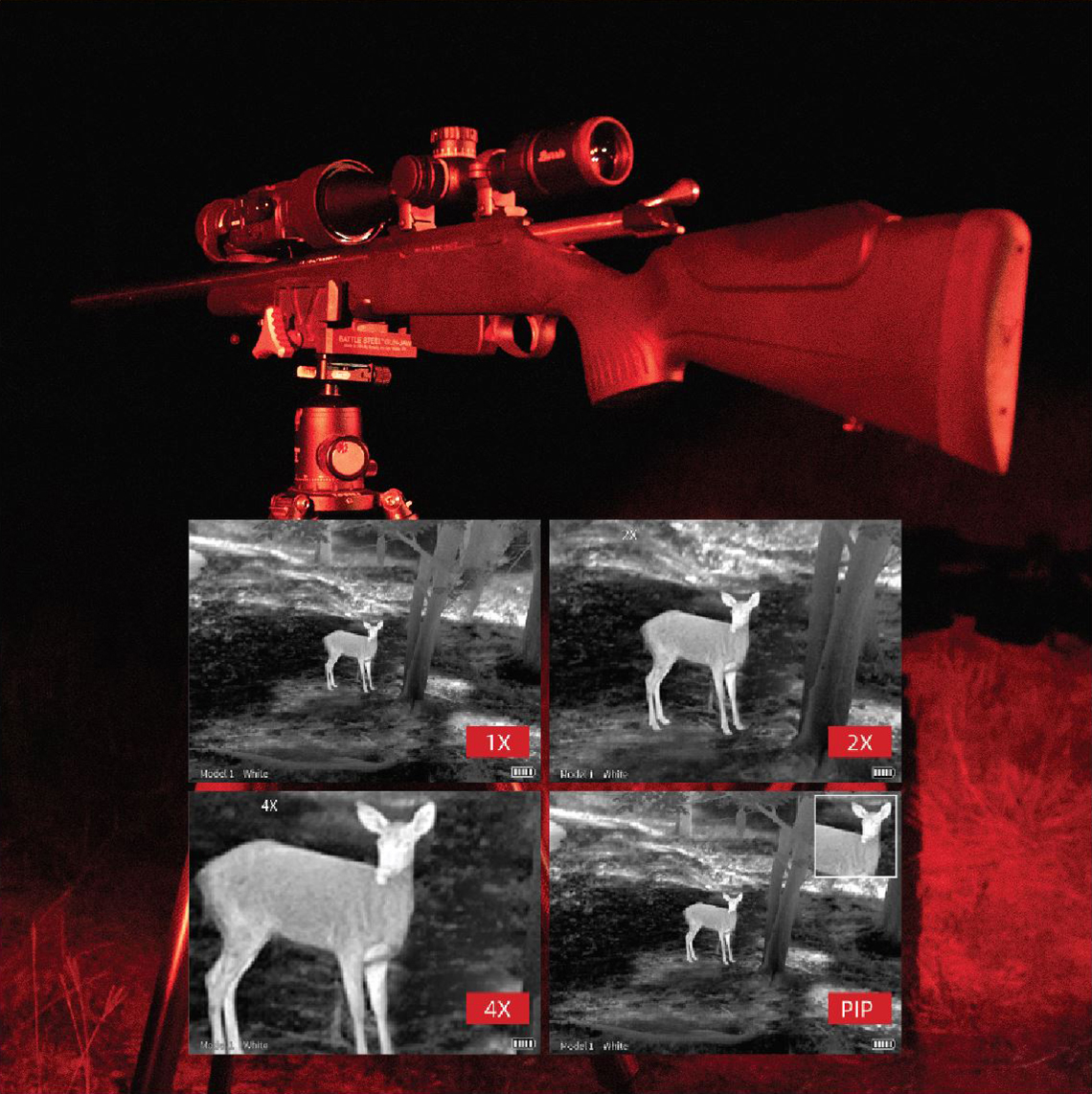 BURRIS OPTICS TAKES THERMAL SCOPES TO A WHOLE NEW LEVEL
Bringing 50 years of experience in optical innovation, Burris now offers the Australian market an advancement in thermal optics. Enriched with features and designed to exceed night hunting needs, each thermal product boasts excellent imaging performance, longer detection range and crisper images in all weather conditions.
The Burris Thermal Series, set to launch in January 2021, includes a handheld devices for identification and tracking, a clip-on attachments and a fully equipped riflescope, all manufactured to the highest standards.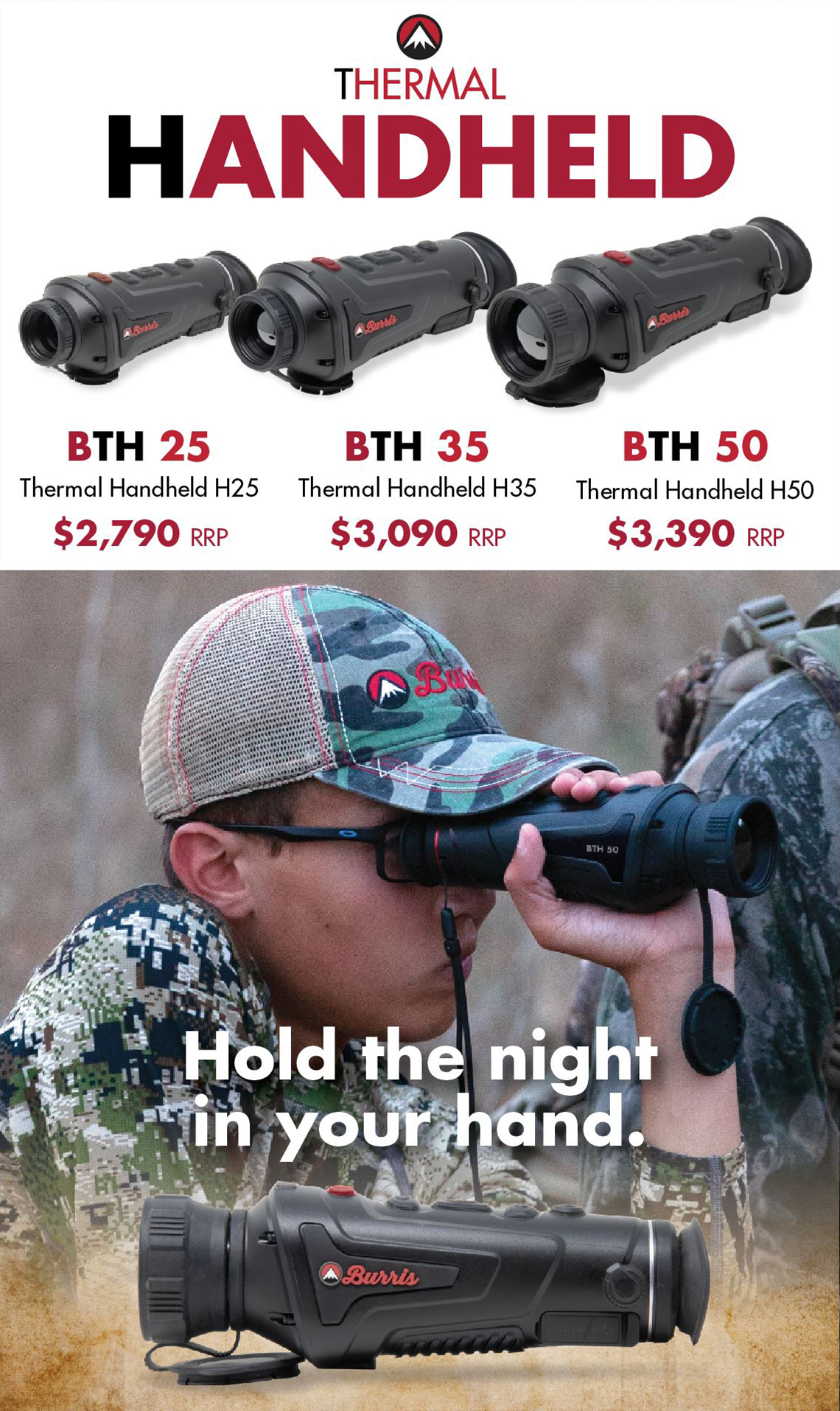 The Thermal Handheld Imaging Monocular provides adaptable and excellent thermal imaging in any conditions. With a modern, lightweight design the Thermal Handheld has the ability to hot track targets over 650 metres away. Designed with ergonomics in mind, the device allows ongoing observation of a target without eye fatigue and intuitive buttons ensure ease of use in dark conditions. Equipped with Bluetooth connectivity, features and recording functions can be easily controlled via mobile phone.
VIEW THERMAL HANDHELD >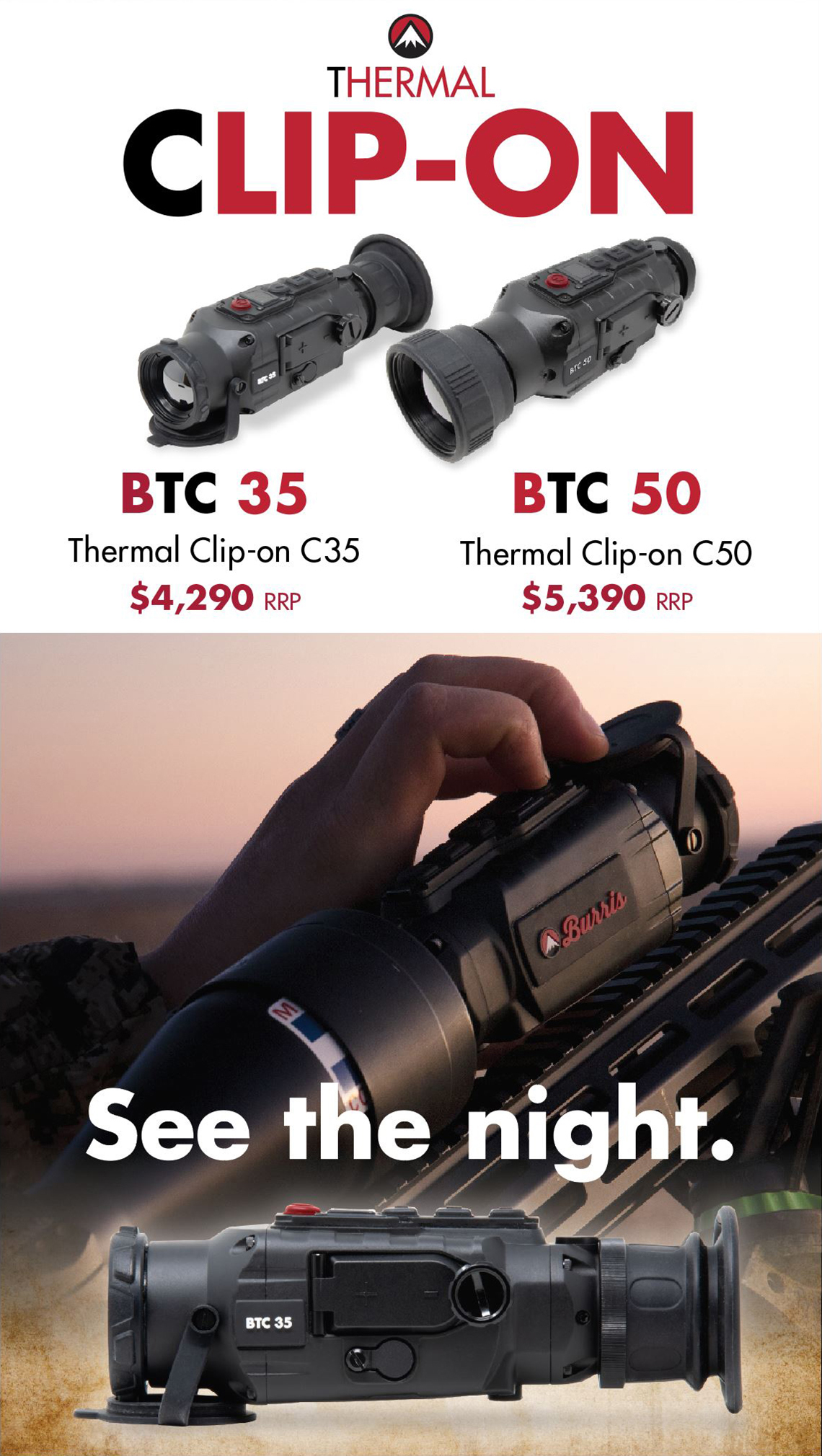 The clip-on attachment is a versatile thermal imaging component, designed to enhance the capabilities of any existing riflescope and can also be used as a portable thermal imaging monocular. This compact, lightweight and durable device can be quickly mounted and dismounted without re-zeroing and the OLED colour eyepiece display provides excellent images in challenging environments (and in various colour modes).
VIEW THERMAL CLIP-ON >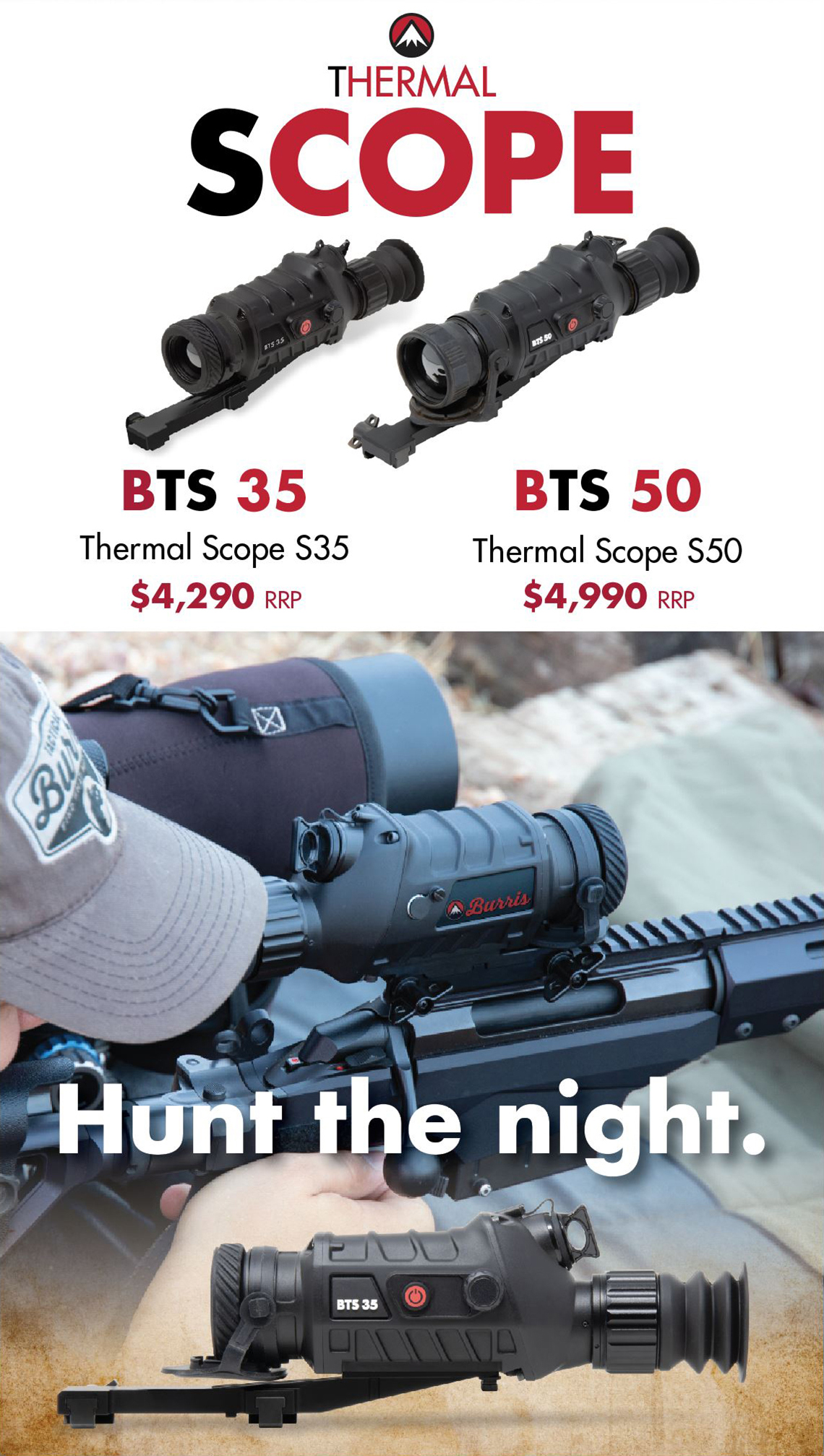 Designed with the professional hunter in mind the last of the thermal optics series is the Burris Thermal Riflescope. With a 400x300 pixel TEC metal encapsulated thermal detector, it can detect and identify targets from maximum range. Offering 4 power zoom, hot track, stadiametric ranging and 5 unique colour palettes, this scope is designed to capture high resolution images with improved clarity - in any lighting conditions.
VIEW THERMAL SCOPE >
Multiple reticle options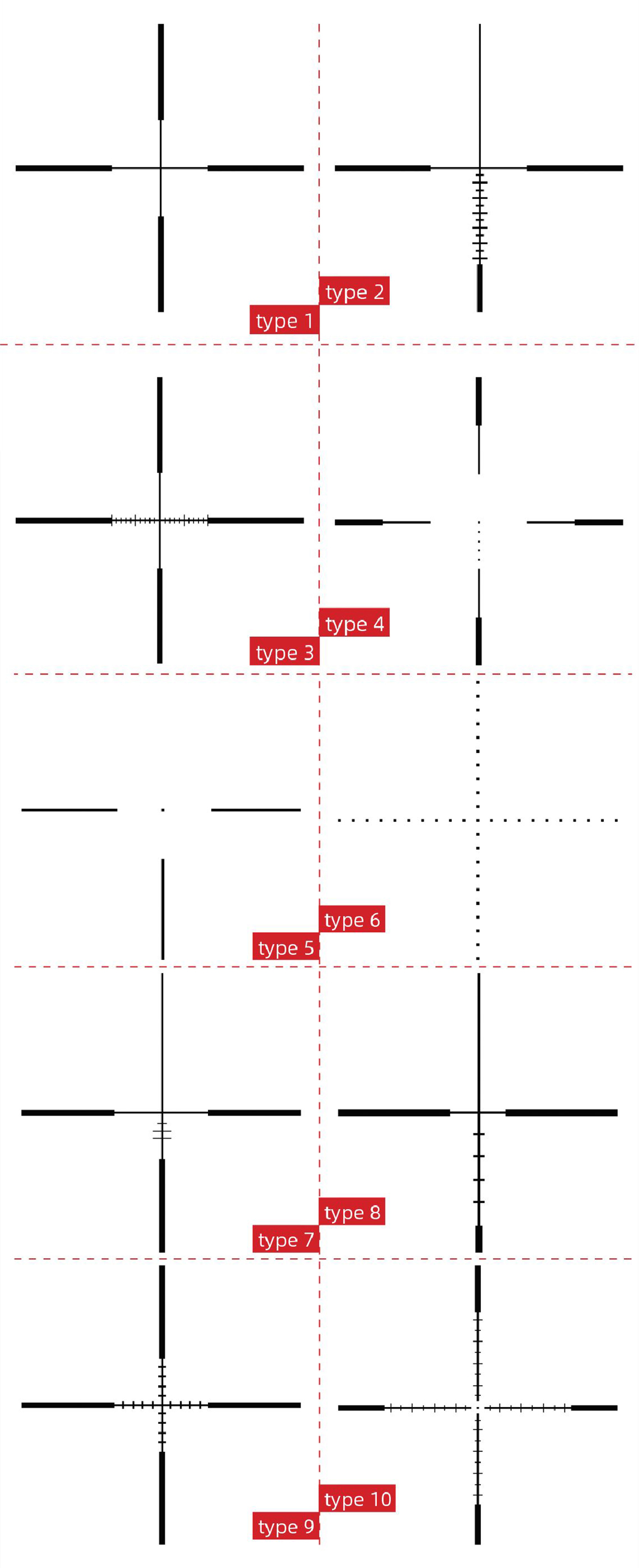 For nearly 50 years, Burris has been on the forefront of cutting edge optical engineering, setting the benchmark for accuracy, durability, innovation, and value. Burris optics are built to provide a lifetime of reliable performance, and are backed by the Burris Forever Warranty™. Whatever the use, the goal is the same: absolute accuracy and unfailing reliability.
FIND YOUR NEAREST BURRIS THERMAL DEALER >