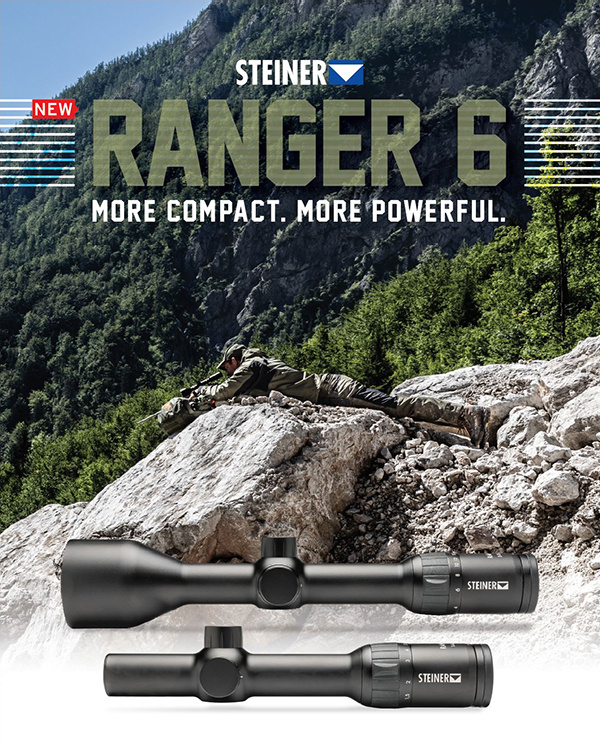 Introducing the new Ranger 6 Riflescope from Steiner. Never before has there been a more compact and more powerful riflescope within this price bracket. The innovation and consistent development seen with the previously successful Ranger series has continued, allowing Steiner to bring more genuine enhancements and improvements to the market with the new Ranger 6 series.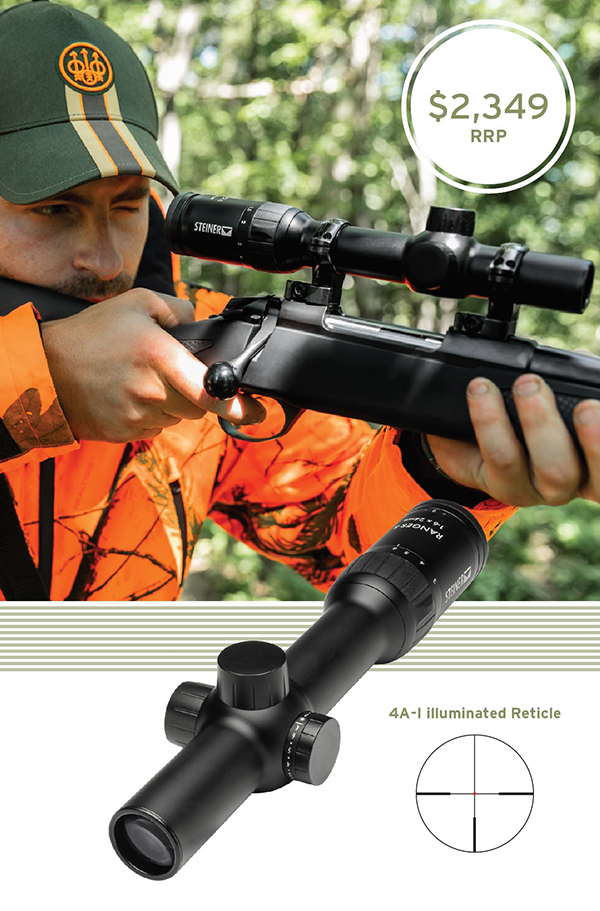 THE DRIVEN HUNT SPECIALIST
Ranger 6 1-6x24mm
A classic driven-hunt riflescope with a large field of view across the magnification range. At 1x magnification, the field of view is an impressive 40.75m at 100 m distance. The 4A-I illuminated reticle dot ensures fast target acquisition for shooting on the run and is also ideal for big game hunting.
THE ALL-ROUND SCOPE
Ranger 6 3-18x56mm
This universal riflescope is ideal for various types of hunting. The larger 56mm objective efficiently gathers light, making it well-suited for twilight and night hunting. With its large field of view, it is the perfect choice during stalking or still hunting at night. It also features the 4A-I illuminated reticle that is adjustable for optimum brightness in daylight or very low residual light at night. The extremely fine illuminated dot allows precise shots even at long distances.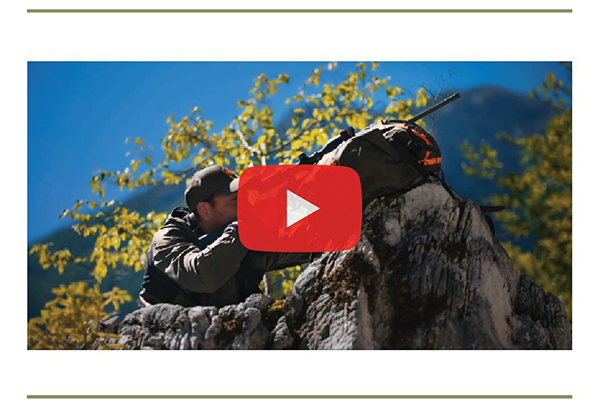 FEATURES
High Contrast-ED-Optics
Shoot accurately and react safely in all situations with edge-to-edge sharpness and excellent resolution of detail. With Steiner's special High Contrast-ED-Optics the game stands out even more clearly from its surroundings giving you a perfectly clear shot.
Steiner Zeromode
In order to offer the perfect riflescope even in demanding situations, we have integrated the Zero Stop technology in our Ranger 6 riflescope for long-distance shots. After adjustment, the turret of the height control can always be reliably turned back to 0.
The Zoom Factor
A powerful 6 x zoom in a lighter and more compact size than most comparable scopes, The Ranger 6 is a riflescope for any combination. The 6 x zoom Factor gives great versatility for use in different situations.